2018 American Music Awards: Taylor Swift Makes History, Cardi B Wows & More
The 2018 American Music Awards was truly a night to remember. From host Tracee Ellis Ross' amazing hip hop dance number, to Taylor Swift's awards show performance comeback, to incredible tributes, this year's AMAs were nothing short of EPIC.
Performing at the 2018 AMAs were Taylor Swift, Shawn Mendes and Zedd, Mariah Carey, twenty one pilots, Cardi B, Bad Bunny and J Balvin, Dua Lipa, Post Malone, Carrie Underwood, and more. The show also included a tribute to Queen by Panic! at the Disco, who performed a cover of the legendary rock band's iconic "Bohemian Rhapsody." Aretha Franklin was also remembered during this year's AMAs from soul and gospel stars Gladys Knight, Ledisi, Mary Mary, Donnie McClurkin and CeCe Winans.
Take a look at some of the moments from this 2018 American Music Awards below.
Taylor Swift Makes Fiery AMA Comeback With "I Did Something Bad" & Teases "The Next Chapter"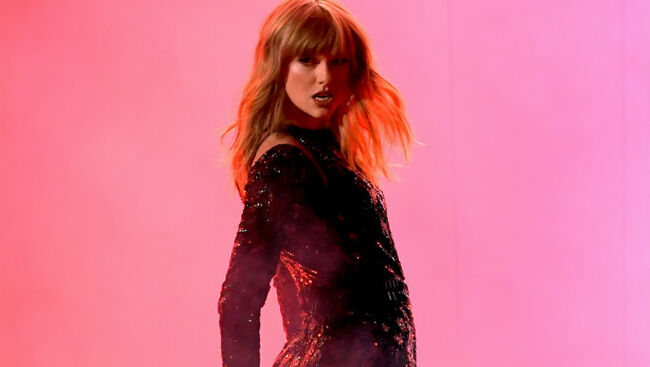 Taylor Swift opened up the show on Tuesday night with the debut televised performance of her new reputation single, "I Did Something Bad" — her first number on the show since her live rendition of "Blank Space" in 2014. For her opening set, which replicated the production from her recording-breaking "reputation Stadium Tour," Swift started her showing a capella with her backup dancers occasionally stopping in sync with her vocals. Throughout the perfectly dramatic introduction, the pop titan slowly worked her way up to the hook, before strutting up and down the catwalk and offering choreography similar to the tour number. While the pyro was at an all-time high, it was the inflatable snake from her tour that caught the most attention from the crowd at the end of the performance.
Elsewhere in the night, Swift also took home four awards, making her the most awarded female of the show. In her speech for Favorite Album – Pop/Rock, Taylor thanked her fans, and spoke about her family and friends who surrounded her while making the album, but concluded with quite the cliffhanger for Swifties. Read her full speech below.
"Just thank you for this. Thank you a million times for this. This was actually the first time I ever wrote an album based on a title first. I'd never come up with a title before. So, the whole time I was writing an album based on the facets of a reputation, and how it affects you, what it actually means to you, I was surrounded by friends and family and loved ones who never loved me less based on the fluctuations of public opinion. And those people all know who they are. One of those people is my date tonight, her name is Claire, she's very pregnant. So this is her son's first awards show. Guys, I always look at albums as chapters in my life, and to the fans, I am so happy that you liked this one, I'm so happy that this means that you liked this one. But I have to be really honest with you about something, I'm even more excited about the next chapter."
Taran Killam Had The Best Reaction To Cardi B's "I Like It" Performance
Cardi B may have offered Drake and Migos' joint tour her first official post-Kulture performance, but the hip-hop heavyweight made her true return on Tuesday, and SNL's Taran Killam was all too impressed. For the world premiere rendition of "I Like It" featuring Bad Bunny and J Balvin, the rapper made a festive attempt to recreate the tropical music video and Killam's jaw-dropping face had viewers reacting with giggles. Starting at a rotating platform, Bardi appeared on the spinning stage surrounded by her dancers as she made her way through her verse. Next up was Bad Bunny, who was rolled onto the stage in a shopping cart, and J Balvn, who popped up from the back of the set, to help the rapper finish up the number. Bardi also surprised the crowd with some choreography, helping make the number her most show-stopping award performance to-date.
Mendes Army Reacts To Shawn & Zedd's "Lost In Japan" Performance
Shawn Mendes' performance of "Lost In Japan" featuring Zedd at the 2018 American Music Awards had the Mendes Army all up in arms. After the EDM hitmaker confirmed the collaboration to iHeartRadio in May, the two worlds collided forces at the Microsoft Theater in Los Angeles and the cross-genre number saw the pop star sing with his guitar in-tow in front of a sky of mini-lights. Meanwhile, Zedd traded in the turntables for the piano as he offered up instrumentation alongside a band. Scroll on below to see some of the best reactions to Shawn and Zedd's AMA number!
Aretha Franklin is Honored with Star-Studded Tribute
Gladys Knight, Ledisi, Mary Mary, Donnie McClurkin, and CeCe Winans took to the stage to honor the late, great Aretha Franklin. Prior for the emotional medley, a special montage aired looking back at the icon's impressive career, which spanned her early AMA show appearances to the moment she made President Obama shed some tears. During the finale gospel-charged number, which was produced by Rickey Minor, each of the act went through soulful moments to tribute the late Queen of Soul, including touching renditions of "Amazing Grace", "Mary, Don't You Weep" and "How I Got Over."
Ciara & Missy Elliott Make The 2018 AMAs 'Level Up'
Ciara and Missy Elliott sure know how to own a stage. The two powerhouse performers took the 2018 American Music Awards by storm with their remix of Ciara's megahit "Level Up." The divas' performance was literally next "level" (see what I did there?) as it featured a boatload of dancers, a killer drumline, and fireworks (yes, actual fireworks!). Did we mention the ladies style game was also on point? Ciara wore a plunging white leotard and matching over-the-knee boots, while Missy sported her usual, but still amazing and high fashion, patterned sweatsuit.
CiCi also gave the AMAs a dose of her new single, "Dose," which she performed after Missy departed the stage. However, one of the most memorable moments from the high-energy performance came while Missy was still present and cameras showed her "funky white sister," Mary Halsey in the audience. For those who don't know, The Rhode Island native went viral this summer when she shared a video of her coming for Missy's hip-hop throne as she effortlessly performed "Work It." In just a few weeks, the video racked up millions of views as viewers flocked to the clip that featured Mary performing the classic track with an animal horn in one hand and a mic in the other during a cookout.
Mariah Carey Performs "With You" For The First Time
It's Mariah Carey's world and we're just living in it. That's what we were reminded when the songstress let us into her very-pink universe during the evening to perform her latest single "With You." The performance also marked the first time she's performed the track on television.
The "We Belong Together" singer sang the soft ballad in a body-hugging, pink satin dress that seemed to flow infinitely onto the stage, while male dancers performed around her. The track marks Mariah's return to her R&B roots as she belted out "With You," hitting her famous high notes.
Post Malone Shows Off His New Haircut During Performance
The "Rockstar" rapper took the AMA stage while surrounded by a circle of flames to perform two of his latest hits. Post came out the gate smoking (not literally just figuratively) in a striking metallic suit. First on his AMA tracklist was his single "Psycho," which he performed alongside Ty Dolla $ign. Post then left the circle of flames to belt out his heartbreaking track, "Better Now."
Posty's AMA performance marked the first time the "Ball For Me" rapper has performed since chopping off his hair over the weekend. The 23-year-old rapper debuted a fresher, cleaner look on Instagram, but admitted he wasn't so sure how his fans would like it. "Had 2 big a** dreads," he captioned a photo of he smoking a cigarette while looking in the camera with his fresh haircut. "plz don't stop listening to my music," he added.
Panic! at the Disco Pays Tribute to Queen with Outstanding "Bohemian Rhapsody" Cover
Panic! at the Disco took on one of Queen's most renowned hits at the 2018 American Music Awards. In his stimulating rendition of the British legends' 1975 smash hit "Bohemian Rhapsody," frontman Brendon Urie outdid himself with a chilling homage to Freddie Mercury's original take. And while Panic! wasn't present in person at the AMAs — the band's display aired live from Sydney, Australia, where they're currently touring — Urie's glossy mystique and signature high-pitch did not go unnoticed. Resting at his grand piano as orchestral tones swell behind him, Urie breezed through Mercury's theatrical number, emulating everything from his pitch-perfect trills to the song's irresistible operatic passage. Even Brian May's six-minute guitar solo gets its shine during the performance.
Dua Lipa Throws A Glow Party With "Electricity" & "One Kiss"
Dua Lipa bust out her best moves to the evening. On Tuesday night, the English singer-songwriter hit the stage at the annual music ceremony to perform two of her hottest bops at the AMAs. Dua opened her set wearing nothing but a hot pink bra, loose-fitting pants and white shoes for a sultry performance of her Calvin Harris team-up "One Kiss," during which the musician steps onto a warehouse scene to join her flashy backup dancers in a rhythmic two-step.
Carrie Underwood Brings Her "Spinning Bottles" To American Music Awards
Carrie Underwood helped slow down the high-energy pace of night with her emotional "Spinning Bottles," a new track off her chart-topping new album, Cry Pretty. Dressed in an oversized dress, which hid her baby bump, Underwood stood in the center of a spinning platform surrounding by candles as she belted the new ballad. With a pianist in the background, the former American Idol champ told the story of addiction. "Round and around and around they go/ Will it end? Nobody knows/ She's all cried out on the kitchen floor/ Spinnin' rooms, spinnin' wheels, spinnin' out of control/ Spinnin' bottles, spinnin' bottles," she belted during the hook.
K-Pop Band NCT 127 Makes Their 2018 AMAs Red Carpet Debut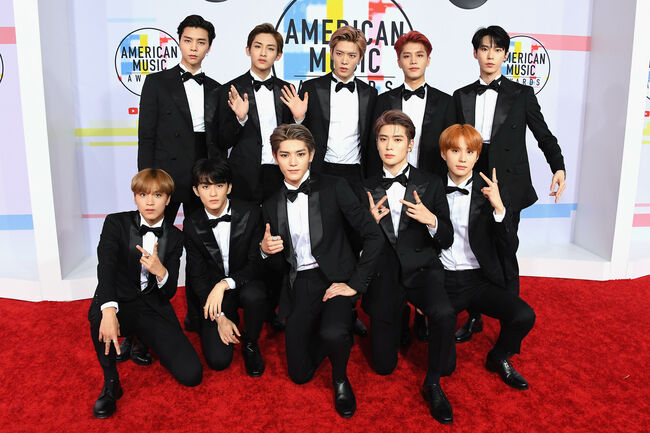 Uber popular K-pop band NCT 127 are taking America by storm! All 10 band members attended the show in Los Angeles on Tuesday, October 9. The group looked dapper in matching black tuxedos and bowties. Their appearance at the awards show comes amid their whirlwind U.S. promo tour, where they recently appeared on Jimmy Kimmel Live! and performed their hit single "Regular."
"Regular" is the group's first English-language song, which they admitted was challenging to record. "Even for us English speakers it was hard because we were already used to recording in Korean," they said during a recent interview. "But we've realized we want to focus on spreading our music to the world, so we needed an English version of the song. We wanted our international fans to listen to it as well and we thought that as we were recording. So we all had to think of the vibe because it's different than Korean. We wanted to deliver that the best way we could."
XXXTentacion's Mom Accepts Post-Humous Award At 2018 American Music Awards
XXXTentacion's mother accepted her late son's prize at the 2018 American Music Awards. The rapper, who was tragically gunned down in Deerfield Beach, Florida over the summer, claimed the Favorite Soul/R&B Album honor for the music he left in his wake.
His mother, Cleopatra Bernard, accepted her son's award on his behalf and gave a heart-wrenching speech in his honor. "I'm so nervous you guys," Bernard said. "I am honored to accept this award on behalf of my son. I would like to thank the AMAs, his fans and to everyone that made this possible. Thank you guys so much, I appreciate it."