Were Cardi B & Nicki Minaj Both At The 2018 AMAs?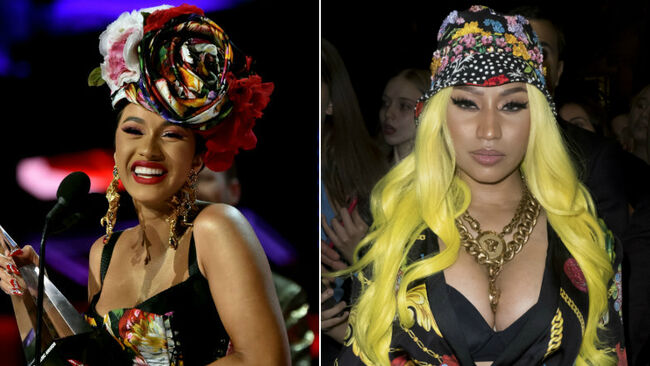 Well, despite rumors, Nicki Minaj was a no-show at the 2018 American Music Awards.
Contrary to reports that claimed Cardi B and the "Barbie Dreams" rapper were set to reunite for the first time since their New York Fashion Week showdown at Tuesday's (October 9) award show, Cardi was the only one of the two rappers in attendance. No surprise though since it was the night of Cardi B, as the Bronx rapper walked away with an AMA for Favorite Rap/Hip-Hop Artist and she performed her International hit "I Like It," which marked her first award show performance since welcoming her daughter, Kulture, in July.
Earlier in the day, the 25-year-old rapper's W magazine cover story dropped, in which she addressed the fashion week incident where she was caught on camera throwing a shoe at Nicki while at Harper's Bazaar's ICON's party. "For a while now [Nicki's] been taking a lot of shots at me," Cardi told the mag. "I spoke to her twice before, and we came to an understanding. But she kept it going." The "Taki Taki" rapper also revealed why she chose to confront Nicki at the fashion week party instead of somewhere else. "So many people want to say that party wasn't the time or the place, but I'm not going to catch another artist in the grocery store or down the block," she explained.
Directly following the shoe-throwing incident, the Cardi claimed that the brawl broke out because Nicki badmouthed her parenting skills and her two-month-old daughter, amongst other things. "I've let a lot of sh*t slide! I let you sneak diss me, I let you lie on me, I let you attempt to stop my bags, f**k up the way I eat," she wrote on Instagram at the time. "You've threatened other artists in the industry, told them if they work with me you'll stop f**kin with them!! I let you talk big shit about me... But when you mention my child, you choose to like comments about me as a mother, make comments about my abilities to take care of my daughter is when all bets are f**kin off!!"
Nicki then took to her radio show to give her side of the story. "I wanna say that I would never discuss anyone's child," she said. "I would never talk about anyone's child or parenting. It's so crazy to me that people always need to make [me] the bad guy. When you have to say that I said or did something that I never said or did … I am not a clown. That's clown sh*t."
Photo: Getty Images